Pair killed in Hounslow 'gas explosion' named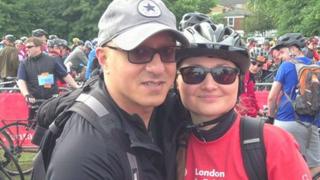 Two people who were found dead at a house after three properties collapsed in a suspected gas explosion have been named.
Suhail Akhtar and Dorota Kolasinska were killed after a tree fell on a house during high winds in Hounslow, west London, on Monday.
Their next of kin have been notified and post-mortem examinations are due to take place.
The cause of the explosion is being investigated by London Fire Brigade.
Five people managed to escape the building after the explosion.
A man and a woman were treated for cuts to their faces and were later released from hospital, while another woman was treated for burns to her hand.
Local residents evacuated from nearby homes which were unsafe after the blast, have been re-housed.