Former Kingston Council leader jailed for child abuse images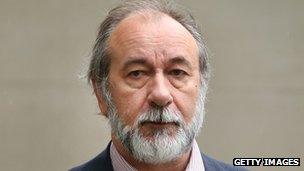 The former leader of Kingston Borough Council has been jailed for two years for downloading nearly 2,850 images and 293 movies showing child abuse.
Derek Osbourne, of New Malden, had admitted 17 charges of possessing and distributing the images.
Osbourne resigned as Liberal Democrat leader of the authority in June.
Some of the children had been subjected to "truly appalling" abuse, Osbourne was told. "It's stomach turning," the Southwark Crown Court judge told him.
The 59-year-old must register as a child sex offender for the next 10 years.
Judge Alistair McCreath said: "This imagery is of real children, suffering real abuse.
"Of course you did not perpetrate that abuse directly yourself, but you and others like you are complicit it, because without people to look at it, there would be no point in doing it."
Osbourne was elected as a councillor in 1986 before becoming leader between 1997 and 1998, and again in 2003.
He was also parliamentary candidate for Kingston upon Thames in 1992.
Osbourne admitted seven counts of making indecent images of children, four counts of possession of indecent images of children and six counts of distributing indecent images of children at an earlier hearing.
In a statement, he said: "I apologise to everyone for my wrongdoing, particularly the children involved. I am now receiving the treatment which I need.
"I apologise to the residents of Kingston, my colleagues, friends and especially to my family for letting them down so badly."
Baljit Ubhey, CPS London Chief Crown Prosecutor, said: "Derek Osbourne grossly abused that position of trust and responsibility when he committed these abhorrent offences, offences which only contribute to the cycle of harm suffered by victims of child sexual abuse and exploitation.
"The overwhelming evidence against Osbourne left the defendant no choice but to plead guilty to his crimes, which is a tribute to the strength of the case built by CPS prosecutors."
Related Internet Links
The BBC is not responsible for the content of external sites.