Borough's £3m sold council house occupied by protesters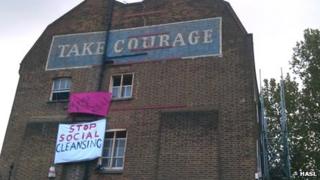 Protesters have moved into a south London council house that was sold at auction for almost £3m on Monday.
The Housing Action Southwark and Lambeth (HASL) members moved in on the day the 1820s Borough property was sold to an unknown buyer for £2.96m.
Southwark Council said the money raised from selling the property near Borough Market, which has been empty for years, would be used to build 20 new homes.
But HASL said it was "social cleansing" that "pushed" the working classes out.
The group, which said it was staging a political protest rather than illegally squatting in a residential property, said it had "little faith" the council would invest in social housing.
'Madness' of sale
It said: "This is about the way in which our city is organised around the interest of private business, seeing working class people pushed out of their communities to make way for a national economy."
Southwark Council said it had informed the police about the occupation and would deal with the issue through the usual legal process.
Councillor Richard Livingstone said: "It's a shame that it appears that some people wish to stop the building of 20 new council homes.
"These much needed new council homes will be built for some of the 20,000 council tenants on the waiting list the group claim to represent."
But Sarah Morris, from HASL said: "This sale of council housing is madness. The attempted sale of this building is a part of the social cleansing that is happening across London where local working class residents are being forced out so that wealthier people can buy it up."
The property, formerly used by Courage brewers, was acquired by Labour-controlled Southwark Council when the Greater London Council was wound up in 1986 and has stood empty for many years.
The 5,500 sq ft (510 sq m) Grade II-listed building stands on the south bank of the River Thames, and covers numbers 21 and 23 Park Street.