CCTV shown of Derek Boateng stab death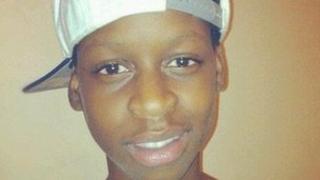 Jurors have been shown CCTV footage of the moment a teenager was stabbed to death on a north London bus - the day before his 16th birthday.
Derek Boateng, from Hackney, was stabbed in the chest on 23 April.
Terrified passengers started screaming as the 16-year-old defendant pulled out a six to eight inch kitchen knife.
At the Old Bailey the teenager, from Romford, Essex, admits stabbing Derek but is claiming self-defence and has denied a charge of murder.
The court heard a knife was found in the dead teenager's jacket.
The jury was told that the defendant boarded the crowded bus outside his school in Islington on 23 April at about 15:00 BST.
Tom Kark, prosecuting, said it was believed there had been a "previous dispute" between the two boys.
He said there appeared to be "immediate hostility" from the defendant who was carrying a kitchen knife and pushed it towards Derek "two or three times".
"There was panic, there was shouting and screaming on the bus as the passengers started to realise what was happening," said Mr Kark.
He added that it was a "sad fact that both the defendant and the victim Derek Boateng were carrying knives and both produced them".
The trial continues