Hounslow gas explosion: Two found dead after houses collapse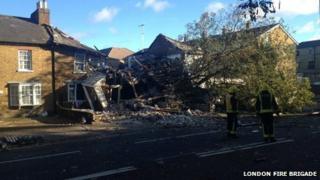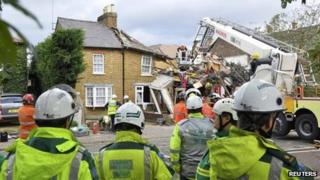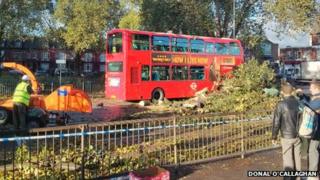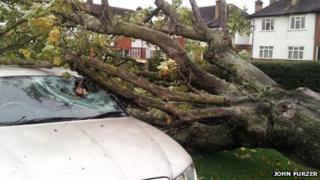 Two people have been found dead at a house after three properties collapsed in a suspected gas explosion.
The blast happened after a tree fell on a house during high winds in Hounslow, west London, at about 07:35 GMT.
At about 12:00 GMT the body of a man, believed to be in his 40s, was found. Later, a woman's body was discovered.
Officers have notified the man's next of kin and are working to establish the identity of the woman who died. Three people were also taken to hospital.
The cause of the explosion is being investigated by London Fire Brigade.
Fire station manager Turan Turan said it was "a very substantial explosion" which had involved the "devastation of three terraced houses almost in completion".
He said that debris had been "strewn over an area of around 50 metres and large sections of the roof catapulted across the road".
"We've seen two people die here today, but it could have been a lot worse," he added.
"It's a very busy road and it was the start of the rush hour."
Met Police Ch Supt Karl Bussey said the two bodies were found in different parts of the building.
In total, five people and three dogs managed to escape the building.
A man and a woman were treated for cuts to their faces and were later released from hospital, while another woman was treated for burns to her hand.
Surrounding homes have been evacuated and local roads have been closed.
Hounslow Council leader Jagdish Sharma said: "On behalf of Hounslow, I would like to send my heartfelt condolences to the families of those who have sadly died today.
"The council is doing all it can to support those who have been affected by today's severe storm."
Elsewhere, a man from Harrow died after a tree fell on his car.
The man, who was in his early 50s, was hit in Lower High Street, Watford, Hertfordshire Police said.
Rail services across London have also been disrupted because of the storm passing across parts of England and Wales.
In central London, the Cabinet Office was evacuated after a crane fell on the Westminster building at about 06:50 GMT. No injuries were reported.
London Fire Brigade said that between 06:00 and 09:00 GMT it received more than 400 storm-related calls.
'Speed and professionalism'
There has been widespread disruption to London Underground services, with delays and part suspensions on the majority of the lines.
Network Rail said more than 100 trees had been discovered on the rail network across the south east which disrupted services.
All of the Royal Parks in London, including Hyde Park and Kensington Gardens, were closed for most of the morning because of falling debris.
Kew Gardens will remain closed on Tuesday to allow the clean-up operation of "a significant number of broken branches" to continue, a spokesperson said.
The Mayor of London has chaired a meeting of the capital's emergency resilience committee to assess the impact of the storm. The Met Police, London Ambulance Service and London Fire Brigade all attended the 30-minute briefing.
Boris Johnson said: "London's transport staff have coped with great speed and professionalism in bringing tube and bus routes back into use - even though we have seen several lines disrupted by falling trees."
Gusts of up to 70mph (112km/h) have been recorded at Heathrow Airport, where up to 130 flights have been cancelled.
British Airways said it was complying with a request from Heathrow to reduce its flying schedule at the west London airport, but flights to and from London Gatwick and London City airports would operate as normal.