The City Story exhibition celebrates philanthropy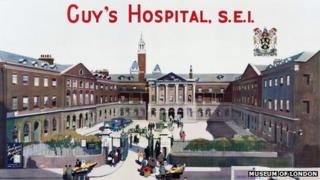 An exhibition marking 800 years of philanthropy in London is due to open in a former 14th Century monastery.
The Charterhouse, in Farringdon, is staging The City Story which explores London's history of philanthropy through stories past and present.
Charlie Hobson, from The Charterhouse, said the building "owes its existence to generous benefactors".
The exhibition opens on Wednesday at the historic building which is now an almshouse.
Exhibits on display include on an ornate wooden Jewish charity drum that worked like a tombola to select who would receive philanthropic tidings.
The show also features art deco posters from the 1920s encouraging people to give to London's hospitals and sketches and wood engravings showing philanthropic events such as The Lord Mayor's show.
Flushing toilets
David Farnsworth, chief grants officer of the City of London Corporation's charity, City Bridge Trust said: "From the first public flushing toilets in Dick Whittington's day to helping map the human genome, philanthropy has always broken new ground.
"By demystifying philanthropy we hope to inspire a new generation of philanthropists.
"We want to encourage young people who care so passionately about today's social issues to feel empowered to change them for the better, through the giving of time, money and skills."
Mr Hobson said the existence of the Charterhouse was due to many philanthropic offerings.
"A generous gift from Sir Walter de Manny saw the establishment of Europe's largest Carthusian monastery on this site in the 14th Century, and the monks' cells were sponsored by the city's great and good, as was the installation of a series of pipes pumping clean water here from Islington.
"The charity that exists here today - an almshouse for a community of elderly gentlemen - was endowed by our founder, Thomas Sutton, in 1611."