Judges to hear Lewisham hospital cuts appeal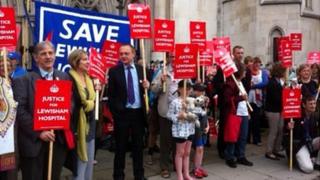 An appeal by the government against a High Court ruling over a decision to cut services at a south London hospital will be heard on Monday.
The health secretary acted outside his powers when he said casualty and maternity units at Lewisham Hospital would be downgraded, a judge ruled.
Mr Justice Silber said Jeremy Hunt had breached provisions of the National Health Services Act 2006.
But Mr Hunt said the move would improve patient care in south London.
Three judges
The judge ruled in July that Mr Hunt's decision was "unlawful" as he lacked power after being told the changes would mean local people having "to travel a long, long way further to get access to vital services".
The government is now asking the Court of Appeal to overrule Mr Justice Silber's decision.
Mr Hunt told Parliament in January that A&E and maternity services at the hospital would be downgraded.
He assured MPs the changes would improve patient care in south London, saving up to 100 lives a year, but gave an undertaking not to implement them pending the legal challenge.
The challenge against the government was brought by Save Lewisham Hospital and the London Borough of Lewisham.