£2m south London council home to be sold at auction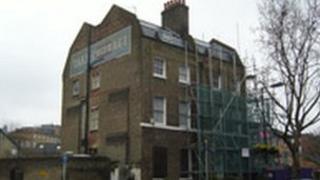 A south London house said to be the most expensive council home in the UK is to be sold at auction, with a reserve of £2.3m.
Built in around 1820, the Borough property is believed to have housed Anchor Brewery managers before it was taken over by the brewer Courage.
Southwark Council, which is selling the property, plans to use the funds to refurbish council homes.
The property will go under the hammer on Monday.
Standing just around the corner from Borough Market, on the south bank of the River Thames, the 5,500 sq ft property covers numbers 21 and 23 Park Street.
The Grade II-listed building needs extensive repairs and refurbishment but auctioneer Savills, which is carrying out the sale, said it could fetch more than the asking price.
Chris Coleman-Smith, head of auctions at Savills, said: "We think this will be the most expensive council home ever sold. It could go for much more than its reserve, it will go up from there in price, it just depends where."
It was acquired by Labour-controlled Southwark Council when the Greater London Council was wound up in 1986 and has stood empty for many years.
'Best option'
Councillors said the cost of repairing the Georgian building meant that auctioning it off and reinvesting the money into new housing stock made the most economic sense.
Labour councillor Fiona Colley, cabinet member for regeneration, said: "The costs of repair and refurbishment, coupled with the sale price mean that selling this building was always the best option.
"The receipt will contribute to our new 11,000 council house building programme."
Labour councillor Ian Wingfield, cabinet member for housing management, said: "Selling council homes is not something I would ordinarily advocate, but this is a no-brainer in terms of the capital we'll receive to invest back into housing, for improving existing stock and new build."
Councillor Toby Eckersley, Conservative, said: "As long as nobody has been displaced, the council will do well to sell them for that price to help fund the council's housing stock."