Judicial review sought over fire station closures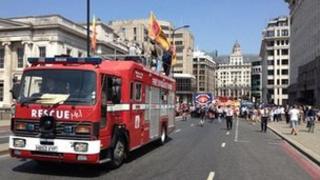 Representatives from seven London councils will be applying for a judicial review over plans to shut 10 fire stations.
More than 500 firefighters' jobs will be lost under the plans which have been approved by the London Fire and Emergency Planning Authority (LFEPA).
The seven councils argue the plans are "legally flawed" and "could put lives at risk".
But Mayor Boris Johnson said "keeping Londoners safe" was his top priority.
'Terrorist targets'
The cuts will save £28.8m over two years and were voted through after months of wrangling.
Representatives from Tower Hamlets, Camden, Greenwich, Hackney, Islington, Lewisham and Southwark Councils will apply for a judicial review at The Royal Courts of Justice in London between 26 and 28 November.
The seven councils argue that the mayor's decision "ignores the fire risks posed by a concentration of potential terrorist targets, tourist attractions, social and student housing and high-rise buildings in the affected boroughs."
Tower Hamlets Mayor Lutfur Rahman said: "We believe that the closure of fire stations and axing of fire engines across London could put lives at risk. We will continue to do all we can to defend our communities from Boris Johnson's cuts to the fire service."
When plans were approved last month Mr Johnson said: "Ensuring that London's fire service is financially stable and keeping Londoners safe are my top priorities.
"I am perplexed why over the last 10 months the fire authority has felt it necessary to drag the world's premier fire service into an increasingly precarious position by refusing to face up to their fiscal responsibilities and listen to the sound professional judgement of the fire commissioner."
The cuts were part of the Fifth London Safety Plan, which also included plans to cut 14 fire engines and reduce fire rescue units to 14 from 16.
The measures will come into effect in January next year.