Man jailed for knife attack on family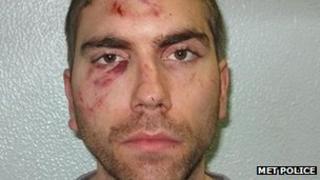 A man who attempted to strangle a former girlfriend after stabbing her mother and father has been jailed for 16 years.
Luke Nicholson, 29, of Sevenoaks, Kent, pleaded guilty to causing three counts of grievous bodily harm with intent.
Bromley police said he only pleaded guilty "at the eleventh hour and in the face of overwhelming evidence".
Nicholson has still not provided an explanation for the attack which took place in Beckenham in January.
All three victims require ongoing and long-term treatment for their injuries.
Left for dead
Met police said he knocked on the door of their home and stabbed the 58-year-old father in the arm when he opened the door, severing an artery.
Nicholson then stabbed the 54-year-old mother in her hands in the hallway of their home.
His ex-girlfriend tried to escape by jumping from the first floor bathroom window but was caught by Nicholson in the garden.
He hit her over the head with a plant pot and proceeded to strangle her to the point where she lost consciousness, police said.
He left her for dead after being disturbed by a neighbour who heard the attack.
'Traumatic months'
Acting Det Sgt Andy Cryan, of the Bromley Police Community Safety Unit, said it was a "horrific" attack.
He added: "To date, Nicholson has still not provided an explanation for what he did, which has made it even harder for the family to deal with.
"I would like to praise the courage shown by the family, both in the immediate aftermath and during the traumatic months since the incident.
"Hopefully today's sentence will help them start to move on from what happened."
Nicholson, who was arrested a shortly after the attack, pleaded guilty on September 4 and was sentenced on Thursday at Croydon Crown Court.