Bury Farm campaigners fight against golf club plans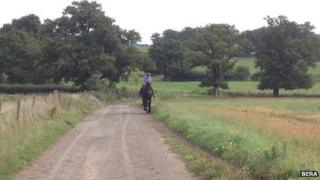 More than 1,400 people have signed a petition opposing plans for a golf club on London farmland which dates back hundreds of years.
The 450-acre site, which includes Bury Farm in Edgware, was given by Henry VI to Oxford's All Souls College in 1442. It is leased to a farmer and a stables.
The college said a golf course on 173 acres will create new jobs but not disturb the public footpaths.
Campaigners say the club will make part of the land inaccessible for residents.
Broadfields Estate Residents Association (BERA), which launched the petition, say the land has been integral to Edgware since 1216 and the green belt area should be "protected from development forever".
The golf club will bring in a lot of traffic to the area, "damage existing wildlife", and lead to "loss of free public access and exercise area for horses", it added.
'Ecological vandalism'
Campaigner Ruth Bloomfield said: "This is open green belt land that is free for everybody to use. If it is a golf club, it is privatising the green belt.
"The golf course would involve reshaping the land which means the landscape that has been farmed for over a thousand years will be lost."
Farmer Stewart Hunter, 75, has been growing millet wheat in the 200 acres he leases for the past 20 years.
"I will lose half of the land to the golf course and I will just give up the other 100 as it is not worth it. So I will be losing two times what they are taking away," he said.
Labour London Assembly Member for Barnet and Camden Andrew Dismore dubbed the proposal "ecological vandalism".
He said: "It is part of the green lungs of Edgware and the proposals for a golf course will destroy not just valuable green belt, but completely alter the geography by landfill to create the golf course obstacles."
A spokesperson for All Souls College said large sections of the land received as endowment were leased to developers in the 19th Century to build housing.
They said: "This particular farm is very difficult to farm as a traditional arable area. As a result we looked for other ways to make it viable. One of those was to allow horses on the land.
"Now we are exploring using just over a third of the land to be developed as a golf course. It will probably create new jobs in the area."
Tony Menai Davis, who owns The Shires London golf course in Barnet, has submitted the planning application to Barnet Council for the golf club. He was unavailable for a comment.
Residents have until 29 October to comment on the planning application.