Liam Sibbons sentenced for Romford acid attack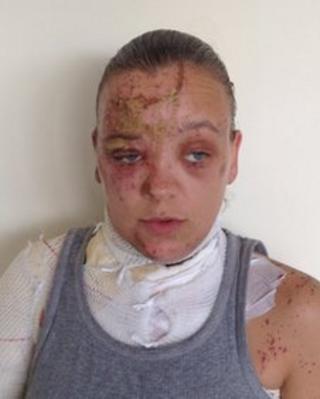 A 16-year-old boy has been sentenced to eight years and three months for an acid attack on a woman in east London.
Tara Quigley, 28, suffered injuries to her face and upper body when acid was thrown at her as she answered the door at her home in Romford on 30 April.
Liam Robert Sibbons pleaded guilty to a charge of throwing corrosive fluid on a person with intent to do grievous bodily harm (GBH).
Sibbons will serve six years and three months in custody.
He will be released on licence for the remainder of his sentence.
'Horrific attack'
The teenager can now be named after Judge David Radford lifted a reporting restriction.
Prosecutor Martin Whitehouse told Snaresbrook Crown Court: "This was a horrific attack, involving a degree of brutality and callousness rarely encountered.
"Almost, one might say, beyond comprehension."
Miss Quigley, who did not know the teenager, has been left permanently scarred and will need regular treatment over the next four years.
She suffered burns to 7% of her body, including her right arm, forearm, shoulder, chest, neck and face.
The court heard that most of the burns went almost all the way through her skin and Miss Quigley has had two skin grafts which have only been 85% successful.
In a victim impact statement, Miss Quigley, who was in court, said: "The attack has left me feeling as though my life has been blown apart."
She added she was in constant pain and did not feel safe returning to her home.
"I will have to live with this attack and the scars it has left me with for the rest of my life and nothing I can say or do will change that," she said.
"I truly hope that the man responsible knows just what he has done and the grief and anguish he has caused to me and my entire family."
Mr Whitehouse said Miss Quigley had been at home when she saw someone approaching the house.
When she opened the door she was asked by the person if she was called Michelle. She replied no and the person walked off, however 10 minutes later there was a loud knock on the door.
'Burning sensation'
The prosecutor said: "Miss Quigley opened the front door and saw the same man. He was holding onto a white bottle with both hands.
"He then pointed the bottle at Miss Quigley and squeezed."
Mr Whitehouse said Miss Quigley felt an almost immediate burning sensation when the liquid came into contact with her skin.
The court heard she shut the door and began to scream, and then ran into the kitchen and started splashing water on her face.
An ambulance was called and Miss Quigley was taken to hospital for treatment.
'Mistaken identity'
Sibbons received an acid burn to the left side of his chest during the attack. He had four previous convictions and was on bail at the time of the incident.
Judge Radford said Sibbons had refused to explain why he carried out the attack.
The judge said: "It was, in my judgment, a truly wicked offence, which clearly was premeditated."
He added that the attack could have been a case of mistaken identity and a large amount of money had been found after the teenager was arrested.
"Whether this was because you were being paid to commit this offence and there was some kind of mistake about the identity of the victim is a matter for speculation in the absence of candour and honesty on your part," the judge said.