Could kazoos be banished from Camden Town?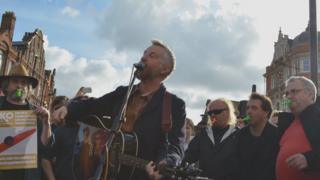 Camden Town is famed for its musical connections - so why is the council trying to ban kazoos?
If you meander through the north London town on any given day your ears are assaulted by a cacophony of sounds - loud music, market traders, sirens and gig goers spilling out on to the streets.
Along with famous venues such as the Roundhouse and the Electric Ballroom, the "most rock 'n' roll borough in London" also offers music in the form of buskers.
And on Thursday afternoon, the main buskers drawing the crowds were comedians Mark Thomas and Bill Bailey along with musician Billy Bragg.
They were playing Star Wars' Death March on kazoos, a wind instrument they claim Camden council wants to ban.
At the moment anyone can rock up and play whatever they like, whenever they like.
However, the council wants to restrict performances to between 10:00 and 21:00.
Under the proposals, anyone who wants to play a wind instrument - apart from the flute and the recorder - would need a special licence, as would all percussion instruments. Any form of amplification would be banned.
'Social cleansing'
"It's a particularly draconian law," said Mark Thomas.
"The thing about culture and where we live is that London is a vibrant, exciting and lively place and we want it to stay like that."
He added: "It smacks of social cleansing and I think Camden is a unique and wonderful borough and actually it needs to keep its uniqueness rather than airbrush over it and to clean it out."
Thomas said the council did not need to introduce a new law, but should instead set up a forum whereby the entertainers, business owners and residents could get together and work out any problems.
"I totally accept there'll be occasions when it's too loud; totally accept there'll be occasions when it's inappropriate, but you just get a method of good practice.
"If you want to solve the problem, the way to do it isn't to be very draconian and use a sledgehammer to crack a nut."
Busker Jonny Walker, who has spearheaded the campaign, said although the council had accused him of being alarmist, it was using the threat of coercion to manage what was a "very small problem".
He said in the last year, there were 104 complaints - 15 from the same person - and that there were 52 complainants in total.
The musician added that under the terms of the licence, instruments could be confiscated and performers could be fined £1,000.
For Bragg, his main concern is that the cultural heritage of the area could change.
Camden's links with rock 'n' roll go back to the mid-'60s, after a disused railway yard was turned into a counter-culture landmark called the Roundhouse. Pink Floyd and Jimi Hendrix played in its cavernous interior.
Amy Winehouse praised the area in her Grammy Awards acceptance speech; Bob Marley lived there in 1972 and Prince had a boutique shop there in the mid 1990s.
'Dull and dead'
"Camden is the most rock 'n' roll borough in London.
"Wouldn't it be sad if Camden was as dull and dead as some other backwater place? It's vibrant, it's alive.
"My friend's kids, when they come to play in London they want to play in Camden, they don't want to play in Barking or Sutton," said Bragg.
He added: "If the people in Camden who are living this cutting edge life can't put up with a few people standing in a street singing "Take you by the hand and let me take you around the streets of Camden" then it's musical incorrectness gone mad."
The council said it had no plans to ban busking, but it had to listen to the concerns of residents who have complained.
Cabinet member for community safety Abdul Hai said: "We believe that all forms of street entertainment are an important part of the musical and cultural heritage of the borough.
"However, in recent months we have received an escalating number of complaints from local residents regarding disruptive busking activity, particularly where amplification is used in residential areas.
"We cannot allow the lives of people who live and work in Camden to be disrupted by noise nuisance.
"However, we are not trying to drive away street entertainers we are instead looking to attract them and add value to the performances that they give."