Electric cycle hire trial for Haringey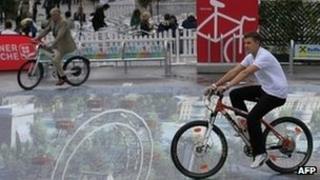 Electric bikes could soon be available for rent in a north London borough as part of a cycle-hire scheme.
Docking points could be created around Haringey's Muswell Hill to take the "puff and pant" out of riding in the hilly areas, London's mayor said.
The bikes cannot be used outside Haringey as normal docking stations are not adapted for electric cycles.
There are also plans to create special cycling routes and to offer bikes to local beat police officers.
The trial will be funded by the mayor's £913m cycling budget and a feasibility study will now take place to look at the preferred areas for docking stations, the number of bikes used during the trial and the technology needed.
'Elevated latitudes'
It is estimated between six to 12 docking stations will provide space for more than 100 bikes and the stations will be located in and around Finsbury Park, Crouch End and Muswell Hill.
Cyclists will not need a licence, equipment or insurance to use the electric bikes, which have a battery-powered motor to help users pedal.
London Mayor Boris Johnson said the bikes were "already big on the continent because they take the puff and pant out of cycling".
The "elevated latitudes of Haringey" were perfect for the trial, he added.
Haringey Council leader Claire Kober said their aim was to be "one of the capital's greenest boroughs" and improving cycling facilities helped promote and reward greener travel.
There are also plans to offer the police in London about 100 electric cycles, starting with Haringey, as part of a trial.
The electric bike hire scheme will be similar to the current bike hire operating in London with cyclists dropping off the electric bikes at docking stations and a fee being charged on a pay-as-you-go basis.
The council said the trial was aimed at supplementing the local bus service and riders could be offered use of the bikes for up to a week.
There are also plans to earmark a network of "quietways" to enable cyclists to use back streets, off-road routes and parks.