Heathrow Airport workers bailed after theft probe arrests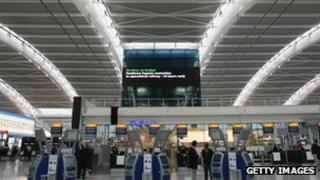 Nine Heathrow Airport staff arrested on suspicion of theft of personal property have been released on police bail.
The six men and three women, aged between 23 and 63, were detained on suspicion of 43 thefts, between 22 May and 2 September.
They were targeted as part of a planned operation by the Metropolitan Police's aviation branch.
The force said the suspects had been bailed until dates in mid-December, following the operation on Wednesday.
Two members of staff were arrested at the airport while the other seven were detained at residential addresses. Searches have taken place at a number of locations.
A spokesman for Heathrow Airport said: "The employees in question have been suspended while the police complete their investigation.
"We take any report of criminal behaviour seriously at Heathrow and will be taking appropriate action if there is a case to answer."