Tube doors opened between stations on Piccadilly line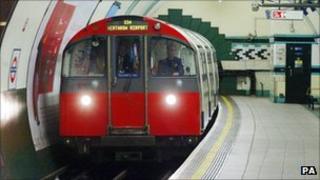 A union has called for an investigation after the doors of a tube train opened between London Underground stations.
The Rail Maritime and Transport (RMT) union said a baby in a buggy was near the door which partially opened on the Piccadilly line train on Sunday.
The union said the incident raised questions about the reliability of the trains, which it said were 40 years old.
London Underground said the train had been taken out of service.
'Customer safety'
According to the union, the train was travelling between Hounslow West and Hatton Cross when the two doors opened.
Nigel Holness, London Underground's operations director, said the driver was immediately alerted to the incident by safety systems on the train.
"The operator brought the train to a halt, checked the doors and ensured they could be fully closed before the train was taken to the next station where it was taken out of service," Mr Holness said.
"The safety of our customers and staff is our highest priority and the train remains out of service while we carry out an investigation."
The RMT said the trains were not due to be replaced for another decade.
RMT general secretary Bob Crow said: "Clearly, there now needs to be a formal and detailed investigation conducted at the highest level as this is not the first time our members have reported door malfunctions on the ageing Piccadilly line fleet."