Mark Duggan inquest: Officer failed to mention gun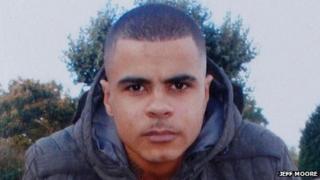 A police firearms officer did not mention that he saw Mark Duggan with a gun in his initial account of the shooting, an inquest has heard.
The officer, known only as W70, said he had been advised by his lawyer to leave it out of his written statement.
He told the inquest that he saw Mr Duggan reach towards his waist before revealing "the shape" of a handgun moments before he was shot.
Mr Duggan, 29, was shot dead by police in Tottenham, north London, in 2011.
'Leave it out'
The written account was made by W70 within a few hours of the shooting.
Barrister Leslie Thomas, for the Duggan family, showed the jury police guidelines which said the initial account of such an incident should have included why the officer thought the discharge of firearms was necessary.
Mr Thomas asked W70 why he had mentioned his police colleague had been hurt and that shots had been fired, but not the claim that Mr Duggan was holding a gun.
W70 said he had told his legal adviser on the night of the shooting that Mr Duggan was holding a gun, but the lawyer told him to leave it out of his initial account.
He later said he was told by a solicitor that if he himself had not used force then he should not put that detail in his initial account.
The jury was then shown a detailed statement written by W70 three days later in which he said he had seen Mr Duggan with a gun.
'Honestly don't know'
The officer was within touching distance of V53, who shot Mr Duggan.
The officer was asked by Ashley Underwood QC what had happened to the gun after Mr Duggan was shot, and he replied: "I honestly don't know, sir."
He said as soon as Mr Duggan hit the ground, he started shouting at him "where's the gun?". He then looked on and under him but could not find one.
The jury has been told that a gun was later found 10-20ft (3-6m) from where Mr Duggan fell to the ground.
The inquest has also heard from officer W42 who was accidentally shot by his colleague when one of the bullets went through Mr Duggan's body.
He told the jury that he was behind Mr Duggan and saw his right elbow move out, at which point he said he was concerned enough to shout "he's reaching, he's reaching".
Mr Duggan was shot dead in Ferry Lane, Tottenham, on 4 August 2011.
He had been travelling in a minicab when he was stopped by an armed unit in a planned operation.
His death sparked riots in a number of English cities.
The inquest continues.