Two found dead at Camden building site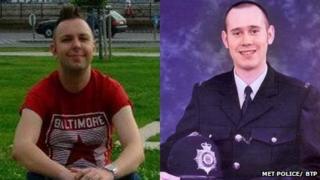 Two men have died after falling into the basement area of a building site in north-west London.
Off-duty British Transport Police officer Gavin Brewer, 32, and Stuart Meads, 34, were reportedly arguing on the Camden site early on Saturday when they fell against a wooden barrier.
The two men, who were thought to be in a relationship, were found in the foundations of the Hampstead Road site.
Their deaths are being treated as unexplained.
A British Transport Police (BTP) spokesperson said Mr Brewer, from Waltham Forest, had been with the force for nine years and was based at Finsbury Park station.
They added: "BTP officers and staff are continuing to support his family and friends through this very difficult time."
'Very sad event'
The Metropolitan Police, which is carrying out the investigation, said it believed Mr Meads, from Hackney, and Mr Brewer, fell against a barrier surrounding the new housing development on the corner of Netley Street and Hampstead Road.
Post-mortem examinations into the men's deaths had been due to take place on Wednesday. The Health and Safety Executive is also involved in the investigation.
Floral tributes have been left to the men at the building site.
One resident, Diederick Santer, said it was a "very sad and troubling event".
He said: "Residents are hugely upset that these two young men have died, and angry that a building site, adjacent not only to numerous residential properties such as our own, but close to a large primary school, was unprotected in such a way that two people could so easily fall to their deaths."
He added that the property developers had since made the barrier safe.