US student scarred in east London bottle attack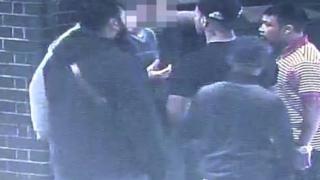 CCTV images have been released of a group of Asian men police want to speak to after an American student was attacked with a bottle in east London.
Francesco Hounye, 22, from Florida, received facial injuries in the assault near Brick Lane on 17 June, three days after arriving in the UK.
The student, who was also kicked and punched, suffered permanent scarring.
Mr Hounye said: "Every time I look in the mirror from now on I will be reminded of this incident."
He had been out in the Brick Lane area with a friend.
As they walked home a confrontation began with several Asian men at about 00:20 BST on Commercial Road near the junction with New Road.
'Obviously not local'
As it became heated, one of the suspects grabbed a bottle Mr Hounye was drinking from and smashed it against his face.
They then chased him and kicked and punched him.
The Metropolitan Police said they believed Mr Hounye had been targeted because he was "obviously not local" and answered back.
He was taken to the Royal London Hospital with deep slash wounds to his head, which required 23 stitches to his face and more stitches internally.
Mr Hounye said: "As a result of this incident I am now scared to go out on my own in London.
"I feel very emotional about the whole situation. I also now face the rest of my life with the permanent scarring that will be left on my face as a result of this attack."
Investigating officer, Det Con Ben Mott said: "They retaliated by grabbing the bottle and launching a vicious attack that has left him scarred for life.
"He had come to the UK to enhance his studies and has been left so shocked and horrified by what happened that he feels unsafe and is unsure if he wants to stay here."
Police want to track down five Asian men, including one who was wearing a red and white striped T-shirt. They are described as being in their late teens to early 20s.
Anyone with information is urged to contact the police.