Arrests after Met Police crackdown on mobile phone thefts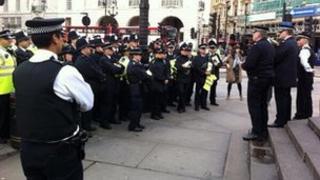 More than 230 people have been arrested as part of a crackdown on stolen mobile phones.
The arrests were for a range of offences, including suspicion of handling stolen goods, robbery, drug possession and being wanted on warrant.
About 5,000 Met Police officers took part in the operation.
The Met Police said personal thefts in London had increased by 12% with about 10,000 phones stolen in the city every month.
It is the fourth operation of its kind in London this year. Previous days of action have seen about 1,700 arrests.
Men are more likely to be victims of robbery while women are more likely to fall prey to thieves, the figures show.
The force said young professionals aged between 20 and 30 were most likely to be targeted while they are out socialising or using public transport.
Commander Stephen Watson, said: "Work continues day in and day out to target those responsible and the networks they use to sell on stolen property, but big, highly visible operations like today play a major part in the fight against crime."