Christian ex-employee to appeal Sunday work ruling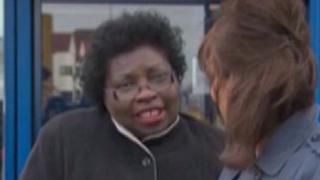 A Christian who claimed she was forced to leave her job after refusing to work Sundays because of her faith is taking her case to the Court of Appeal.
Celestina Mba, 58, from south London, told Merton Council she was unable to work Sundays before accepting a job.
But she claims she was later told she would have to work full weekend shifts and resigned in 2010.
Merton Council said it required carers who were "available to provide round the clock care over the weekend".
Ms Mba hopes to overturn an employment tribunal ruling which said she was not constructively dismissed.
Ahead of the hearing, Ms Mba told BBC London: "I gave my life to Jesus when I was 19 and that was my commitment and I've lived it.
"To start changing my faith to line up with what the employer wants is not possible because my faith is who I am and I'm not prepared to compromise on that."
Yvette Stanley, Merton Council's director of children, schools and families, said: "While we do our best to accommodate our staff, we have a duty to ensure our children with disabilities who need weekend support, are looked after by carers who are familiar with their needs and are available to provide round the clock care over the weekend."
'No alternatives'
Ms Mba, a Baptist Christian, worked with children with severe learning difficulties at Brightwell Respite Care House in Morden for three years.
She told the tribunal she was prepared to work night and Saturday shifts, or to have accepted less pay, to be able to observe Sunday as a day of rest.
But the council said it had a duty to ensure children had weekend care and there was no viable alternative.
At the Court of Appeal Ms Mba is expected to argue that an employer has a duty to "reasonably accommodate" the beliefs of a Christian employee.
She is also expected to use a European Court of Human Rights (ECHR) judgment issued in January.
'Demand days off'
The court ruled that Coptic Christian Nadia Eweida, a British Airways worker who was sent home for displaying a small silver crucifix, had been discriminated against under freedom of religion laws.
But it has also previously rejected similar claims by other Christians.
Ms Mba will seek to use the judgment to overturn the tribunal which ruled that observing the Sabbath was not a "core component" of the Christian faith.
Andrea Williams, of the Christian Legal Centre which is backing Ms Mba, said: "We are finding that when it comes to Christians, they are not accommodated in the way that other faiths are accommodated."
But Keith Porteous Wood, from the National Secular Society, said: "If Christians are given Sundays off, Jews and Muslims will also demand their holy days off, and this could cause disruption.
"The religious should try to find jobs that do not conflict with the way they wish to exercise their faith."