Work fitness tests 'shocking' says Islington Council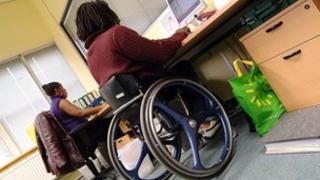 A council has written to ministers saying the performance of the company carrying out "fitness-for-work" tests on disabled people has been "shocking".
Islington Council said the tests carried out by Atos Healthcare had been "too simplistic" after 87% of appeals made by its residents were won.
Atos said the testing was designed by the government.
The Department for Work and Pensions said successful appeals did not mean the original decision was inaccurate.
It said claimants often produced new evidence in their appeals which was not available when the original decision was made.
Islington Council leader Richard Watts has written a letter with his deputy leader to Work and Pensions Secretary Iain Duncan Smith.
The council said it was the first direct challenge to the government over the poor performance of Atos in benefits testing.
The letter, which complains of a "simply unacceptable" level of errors in Atos testing, comes after the council's executive passed a vote of no confidence in the French-run company on Friday.
'Dangerously simplistic'
Atos runs Work Capability Assessments to gauge whether applicants are eligible for Employment and Support Allowance (ESA) and Incapacity Benefit.
Islington has more than 12,000 disabled residents. A total of 108 of those challenged the outcome of their Atos tests.
According to the council, 95 of those won their appeals against the results.
In the letter, the council's leaders said it was an "appalling performance", which suggested "Atos are not able to perform the tasks they are contracted to make".
In a separate statement, Mr Watts said: "Disabled residents deserve far better than this over-reliance on dangerously-simplistic computer questionnaires.
"Atos's performance in Islington has been shocking and we are telling the government we no longer have any confidence in them."
An Atos spokesperson said the testing processes had been designed by the government, adding that "all decisions about benefit entitlement are taken by decision makers at DWP [Department for Work and Pensions]".
They added they understood "the assessment process can cause huge anxiety and we do everything we can to treat people with sensitivity and compassion".
According to government figures, 15% of fit-for-work decisions are successfully appealed.
'Not surprising'
The department said the number of appeals had increased largely due to changes in benefits and reassessments of almost two million people on Incapacity Benefit.
The Department for Work and Pensions, which handles the appeals process, said: "Since 2010 we have considerably improved the Work Capability Assessment process, but anyone who disagrees with the outcome of their assessment can appeal, so it isn't surprising that a number of people do.
"If a fit for work decision is overturned at appeal, it does not necessarily mean that the original decision was inaccurate - often, claimants produce new evidence in their appeal which wasn't available when the original decision was made."
In July, a government audit of Atos found an "unacceptable reduction" in the quality of the company's written reports.
About 400 reports were analysed, with retraining and re-evaluation of staff among the measures recommended.