Protest over Whitechapel Tube ticket office 'closure'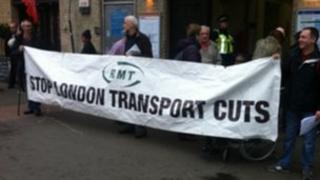 Members of the Rail, Maritime and Transport Union (RMT) are protesting at Whitechapel Tube station against the possible closure of ticket offices.
The union is concerned Whitechapel ticket office will close when the station is rebuilt as part of the Crossrail project.
It said Transport for London's (TfL) plans could lead to more closures.
TfL said it was "committed" to ensuring stations were staffed but did not rule out removing ticket offices.
About 50 protesters are outside the Tube station.
The union said it would not "stand by and allow the company to close them [ticket offices] one at a time".
'Tooth and nail'
The union added: "The area is also known for its diverse local population, many of whom need to access staff support at an open ticket office rather than rely on ticket-issuing machines - machines that are vulnerable to vandalism."
The union said it would take whatever action was necessary, up to and including industrial action, to prevent ticket office closures.
RMT General Secretary Bob Crow said: "The threat to the ticket office at Whitechapel is a line in the sand as far as RMT is concerned and we will fight this plan tooth and nail."
In 2011, a leaked document from TfL revealed it was considering closing all but 30 ticket offices.
The station is undergoing works which will see the current ticket office demolished.
TfL will open a temporary ticket hall in July 2014 which will not have a ticket office.
Gareth Powell, director of strategy and service development for London Underground, said: "Where we are redeveloping a station we seek to make the best possible use of space, and in some cases this could mean redeveloping a station with increased ticketing technology rather than a replacement ticket office.
"Our plans for Whitechapel, which will increase station capacity with the arrival of Crossrail and enable us to improve accessibility by providing another lift in the ticket hall area, were shared with trade unions last year.
"We will continue to discuss changes to ticketing technology on the railway and the huge modernisation of the tube with our staff."