Future of Hackney skate park 'in doubt'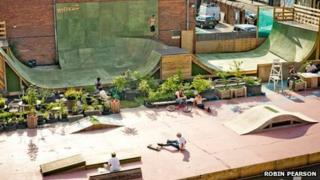 The future of a skate park in a disused plot in east London is uncertain unless more funding can be found.
Andy Willis opened Frontside Gardens in Rothbury Road, Hackney Wick, in September 2012, after his idea won him three month's free use of the land.
The park's popularity led the London Legacy Development Corporation (LLDC) to extend the lease by a year, and now offer a two-year extension.
Mr Willis said he now needed to find funding for the upkeep of the park.
His idea to open a sustainable skate park on the site of a former warehouse was selected in a competition run by the LLDC in May 2012.
'Requires maintenance'
Mr Willis said he built the park and the ramps by sourcing discarded materials from the Olympic Park and other building sites, and had help from local volunteers.
For the first three months the park was open for free, but when the LLDC extended the lease until November 2013, it also gave him £15,000.
Mr Willis said since the park opened the demand had increased and it remained open until late, but the nominal entry fee did not go far.
He said: "The park has overheads, such as Public Liability Insurance, the power needed to run the lights, stereo and fridges, and the need to have a First Aid member of staff there at all times as it's not a public facility.
"It also requires maintenance, as all outdoor wooden ramps do."
"So far I have had to keep taking on other work to keep on top of things. I am going to spend the next few months applying for funding and contacting possible sponsors, and see how much I can raise."
'New city'
The LLDC said the project was a test case to see how it could develop facilities within the Queen Elizabeth Olympic Park when its residential areas open.
Eleanor Fawcett, the LLDC's head of design and physical regeneration, said: "The reason why this kind of a project is important to us is because the challenge we have been set is to really build a new piece of city, a new piece of east London, and that's something that's going to take time.
"And I think it's these sorts of projects which are actually going to start to help people to understand that legacy isn't some distant concept, but is about creating spaces for them."
The company said it would try to find another tenant if Frontside Gardens was unable to stay, but added it wanted to find a way for the skate park to remain.