Southwark Council summons 4,500 for council tax arrears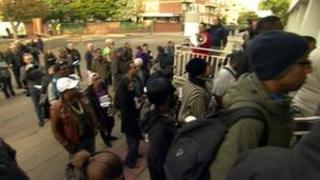 Nearly 4,500 people were summoned to court by Southwark Council for failing to pay their council tax.
They went into arrears after council tax benefit was scrapped in April, which previously reduced their bill.
Debt charity Zaccheaus 2000 Trust, has urged the council to absorb the debt.
The council said it was unable to write off the debts as it would then have to take money out of "another squeezed" council service.
But Joanna Kennedy, chief executive Zaccheaus 2000 Trust, said: "Other boroughs in London have not passed the cuts onto the poorest and Southwark have so I would urge them to think again."
Labour councillor Richard Livingstone from the council, said: "The majority of councils have done the same as us, it's only a small minority that have been able to afford not to pass it on.
"For us here in Southwark it would cost us somewhere between £2.8m to £3.5m every year and that's something we can't afford given the other cuts that we face."
The government does not have its own figures for the number of court summonses since April.
However, research carried out by Labour found that 156,000 have been summoned to court so far for the current financial year.