Seized Lamborghini Aventador auctioned for £218k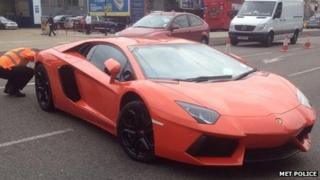 A supercar worth about £300,000 which was seized by the Met has been sold.
The Lamborghini Aventador was stopped in Newham, east London, earlier this month because its front number plate was missing.
After further checks, it was discovered the driver's insurance policy did not cover him to get behind the wheel.
The car was taken by police and as the owner failed to come forward, it was sold at auction for £218,000. The money will be put into frontline policing.