Carole Waugh 'in meeting with accused before killing'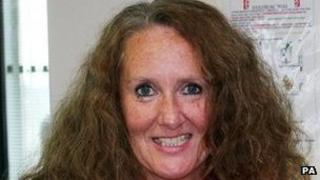 An estate agent met a wealthy woman and one of the conmen accused of murdering her just hours before she was killed, the Old Bailey has heard.
Amit Khagram said he met Carole Waugh and Rakesh Bhayani, 41, in a car in Wembley, north-west London, on the morning of 16 April 2012.
Mr Khagram said they discussed how Mr Bhayani would repay thousands of pounds he owed the pair.
Mr Bhayani and Nicholas Kutner, 48, deny murdering Miss Waugh
Miss Waugh's remains were found three and a half months after she disappeared from her home.
The court has heard that Miss Waugh's body was found in a garage in New Malden on 2 August.
Prosecutors have previously told the jury "the evidence strongly suggests" Miss Waugh was stabbed in the neck in her flat in Marylebone, central London, later that day.
'Casino meeting'
Mr Khagram told the court Mr Bhayani owed him £17,000 and Miss Waugh had lent the defendant between £30,000 and £40,000.
The estate agent explained that he and Miss Waugh spoke over the telephone to discuss how they could get their money back.
He said that after 16 April 2012 he was repaid what he was due and received text messages from Miss Waugh's mobile, but did not speak to her.
Mr Khagram told the court that following the meeting in the car, Miss Waugh was to go with Mr Bhayani as he exchanged a large amount of euros into pounds so their debts could be cleared.
He telephoned Miss Waugh for updates on the transaction but only received text messages in response to say it had been delayed.
"I didn't know what was going on and why she didn't want to talk to me," he said.
Eventually, the witness received text messages from Miss Waugh's phone arranging for the pair to meet near her flat to give him his money.
But each time he went he received a message from her mobile to say she could not see him but had instead given the cash to a friend, whom he then met nearby.
He said Mr Bhayani explained to him that Miss Waugh had moved out of London to care for her sick mother.
Mr Khagram also told the court that Miss Waugh first met Mr Bhayani in a casino.
"She said she knew some pretty heavy people and if he didn't pay she could make him pay," he added.