Labour calls for inquiry after black tenants 'turned down'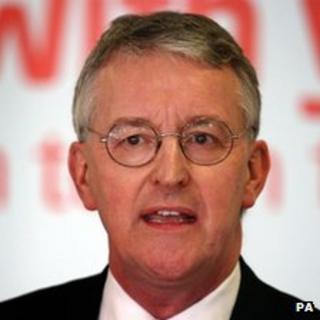 Labour has called for an "urgent" investigation into alleged racial discrimination in the private rented property sector.
A BBC undercover investigation revealed London letting agents were prepared to discriminate against would-be tenants on the grounds of race.
Shadow Communities Secretary Hilary Benn said: "I was shocked."
Under the Equality Act 2010, it is illegal for businesses to refuse to provide a service based on ethnicity.
Viewings denied
Mr Benn said he was "deeply upset" by what he saw in the investigation.
"This kind of behaviour was outlawed nearly 50 years ago, but to find discrimination of that sort going on in London is really shocking," he said.
"That's why I wrote yesterday to the chair of the Equality and Human Rights Commission to ask for an urgent investigation.
An Equality and Human Rights Commission spokesperson responded: "It is against the law and totally wrong to discriminate against people on the basis of their ethnicity.
"We have received BBC Inside Out's findings and will be talking to the property ombudsman and the trade bodies for estate agents to see what can be done urgently to stamp out these unacceptable practices."
Ten firms told a reporter posing as a landlord they would not let to African-Caribbean people at his request.
As part of the BBC investigation, a black researcher was denied viewings, yet his white counterpart was welcomed.
BBC London was initially tipped off that certain letting agents were willing to discriminate against African-Caribbean people on behalf of landlords, with the alleged practice rife in parts of west London.
To expose the practices, a plush three-bedroom flat in north Kensington was acquired. Letting agents from 10 firms were invited to assess its rental value.
All 10 were recorded on secret camera saying they would be prepared not to show the flat to African-Caribbean people - and many detailed how they had done it before.