Barking shop owner Shammi Atwal 'pushed into lorry's path'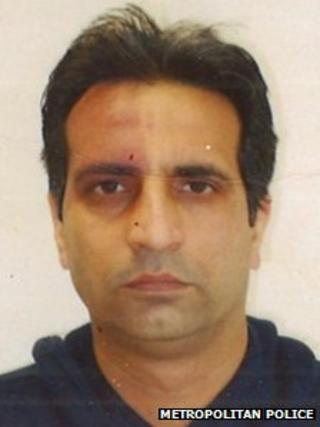 A business owner was killed when he was pushed in front of a lorry after trying to defend his wife from a gang of thieves in east London, police say.
Officers believe Shammi Atwal was pushed into the road as he tried to stop the robbery in Barking.
Up to 10 men armed with metal bars and a sledgehammer entered Glen & Co Cash & Carry in River Road on Monday morning.
Police are treating the death of Mr Atwal, a father-of-two from Essex, as murder.
'Defending wife'
Mr Atwal, who is believed to be in his 40s, was pronounced dead at the scene. His 37-year-old wife suffered minor injuries.
The driver of the vehicle stopped after the collision and was not arrested.
Det Ch Insp Neale Baldock said: "This was a man trying to stop thieves robbing his business.
"He acted bravely in defence of his wife and managed to chase the robbers from his premises only for him to be pushed in front of a moving lorry."
He urged any witnesses to contact the police. The suspects are described as white males.
A post mortem examination will take place at a later date. No arrests have been made.