Carole Waugh death: Murder accused a 'convincing liar'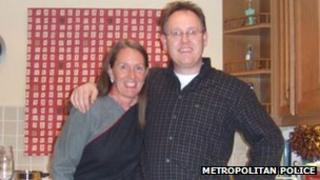 One of the men accused of murdering Carole Waugh and taking about £1m of her assets lied "repeatedly and convincingly", the Old Bailey has heard.
Miss Waugh, 50, disappeared from her home in Marylebone, central London, in May 2012. Her remains were found three months later.
Rakesh Bhayani, 41, and Nicholas Kutner, 48, deny her murder.
The prosecution accused Mr Bhayani of lying for a living.
'All about fraud'
Miss Waugh regarded Mr Bhayani, 41, as a friend. She visited him in prison and had lent him £40,000, the court was told.
Miss Waugh, originally from Durham, was said to be lonely and looking for love in the months before her death.
Mr Bhayani and Mr Kutner were both described to the court as professional conmen with gambling habits.
Concluding his opening statement, prosecutor Patrick Gibbs QC said of Mr Bhayani: "He has lied repeatedly and convincingly, that's what he does for a living and what he has done all his life."
As soon as Miss Waugh was dead, a number of women were used to impersonate her, the court previously heard.
It is alleged that at Mr Bhayani's instigation, the defendants - who had met in prison - also pretended to be Miss Waugh.
A third man, Elie Khoury, 40, of Spring Street, in Paddington, denies conspiracy to defraud.
After he was arrested in August 2012, Mr Khoury told police Mr Bhayani was "all about fraud", the court heard.
He told officers he knew Mr Bhayani used to get money from Miss Waugh, and that all of a sudden he started getting much more.
'Careful with money'
The court also heard from Miss Waugh's brother Chris, who said his sister was "very careful with money".
He filed a missing persons report and became concerned when a letter from the National Lottery said there was not enough money in her account to pay a direct debit.
Miss Waugh's body was found in the boot of a car in a garage in New Malden in August 2012. She had been stabbed in the neck.
Mr Bhayani, of Chamberlayne Avenue, Wembley denies murder but admits perverting the course of justice by concealing the death and also conspiracy to defraud.
Mr Kutner, of Leighton Road, Kentish Town denies murder and perverting the course of justice by concealing the death, but admits conspiracy to defraud.
The trial continues.