Met Police must 'make the case' for increased Taser use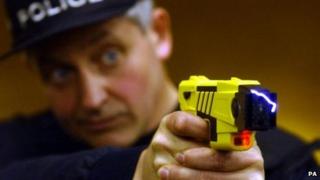 The Metropolitan Police (Met) has been told to justify any plans it might have to increase the number of Tasers used.
The London Assembly's Police and Crime Committee said Scotland Yard must ensure Tasers are only used as a "last resort".
Last year, the Met decided to triple the number of officers trained to use Tasers, the London Assembly said.
The Met said: "We welcome the close scrutiny provided by the committee on this sensitive issue."
Joanne McCartney, Chair of the Police and Crime Committee, said the Met and the deputy mayor for policing must ensure that the use of Taser and other less-lethal weapons was "very closely monitored" to avoid "mission creep".
Mission creep refers to the expansion of a project beyond its original goals, often after initial successes.
A Met Police spokeswoman said: "The Metropolitan Police Service carefully considered issues of public and officer safety in its decision to make Tasers available to more officers.
"Our priority at all times is the safety and protection of the public."
"Taser is proven to be a valuable tool in reducing the risk of harm to the police, violent offenders and other members of the public.
A spokesman for the Mayor's Office for Policing and Crime said: "All the evidence shows that Tasers prevent injury in violent incidents.
"We will continue to provide robust oversight over their use in the capital."
Scotland Yard said it would soon launch a website "to provide data around the use of Taser and community impact assessments on a regular basis".
It has also established a Taser Reference Group (TRG), with input from academics, mental health experts and legal professionals, which it said would "provide independent scrutiny into our Taser policy and procedures".