Mark Duggan inquest: Minicab driver 'feared attack' in police operation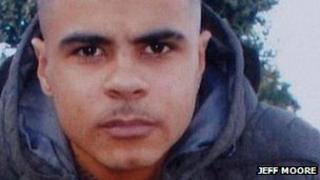 The minicab driver transporting Mark Duggan just before he was shot by police has told an inquest he feared he was about to be attacked.
The driver said three cars sped towards him forcing him to pull over in Tottenham, north London, but there was no indication they were police.
He said: "A lot of people got out of cars. They pointed guns towards my car. They had rifles in their hands."
Mr Duggan, 29, was shot dead in August 2011 sparking riots across England.
'Criminal' treatment
The driver told the hearing at the Royal Courts of Justice that he saw Mr Duggan get out of the car and start to run but a "tall officer" fired and "I saw him get hit in his back".
Asked by the Duggans' family lawyer Adam Straw what the demeanour of the officer who fired the shots was, he said "very angry, like someone who had lost his senses".
He said he was told he would be shot if he moved.
Speaking anonymously through an interpreter, he said: "Mark Duggan only got 2ft-3ft from my car when he was shot.
"He fell on the floor suddenly - but I couldn't see everything.
"The police dragged me out of my car like I was some kind of criminal."
The driver told the court that on the journey leading up to the shooting Mr Duggan had collected a box - alleged to contain a gun - from a man in Leyton, east London.
He said the two had had a two to three minute conversation.
The cab driver was then told to continue on to Tottenham.
He added that he had not noticed Mr Duggan carrying anything when he ran out of the car and did not see a gun flying through the air when Mr Duggan was shot.
Asked by Mr Straw whether the driver saw Mr Duggan open the box he collected he said he did not see.
Mr Straw said this differed from evidence he gave at the trial of associate Kevin Hutchinson-Foster when he said Mr Duggan neither opened nor checked the box.
The inquest continues.