London Assembly investigates Duck Tours fire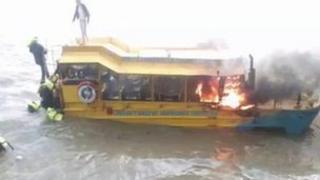 A fire onboard a tourist boat on the River Thames is to be investigated by the London Assembly.
Thirty passengers were rescued from the London Duck Tours (LDT) craft Cleopatra after a fire started on 29 September.
The assembly said the newly created Thames Passenger Boats Investigation Committee would examine the response by the emergency services.
It would also address the operation and regulation of commercial companies operating on the Thames.
'Symbol of London'
Assembly member Victoria Borwick said: "We know too well how dangerous the Thames can be for passengers and crew and it is important that we conduct an independent review of the fire to ensure relevant lessons are learnt by all.
"The Thames is a great symbol of London and a fantastic tourist attraction, we must ensure it operates to the highest safety standards at all times."
LDT is currently only operating a land-based service while investigations into the incident continue.
The Maritime and Coastguard Agency (MCA) and Marine Accident Investigation Branch (MAIB) are also both investigating the incident.
The London Assembly said its investigation would not look in detail at the elements the MCA and MAIB are looking at.
At the time of the incident, LDT managing director John Bigos said: "Until the cause is established, the company will not be operating on the river and should technical or safety modifications be required to our fleet, these will be introduced prior to the service recommencing."