Met picked up 9% of human trafficking victims, report says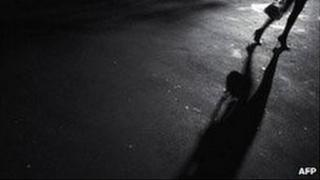 The Metropolitan Police has picked up only 36 of London's 389 identified cases of human trafficking this year, a report has said.
The research by Tory London Assembly Member Andrew Boff said in one case three police stations turned away a trafficked man who managed to escape.
And one council told a Chinese boy, thought to have been sex trafficked, to look on the Gumtree website for help.
The Met said it was disappointed in the report's conclusions.
'Blind' to slavery
As well as the police human trafficking victims are indentified by local authorities, non-governmental organisations and charities, the report said.
Mr Boff's research, called Shadow City - Exposing Human Trafficking in Everyday London, said the capital accounted for 39% of indentified cases in Britain this year.
But the report said authorities were "blind" to slavery taking place in everyday environments such as construction sites, mobile soup runs for the homeless, Chinese and Indian takeaways and Vietnamese nail bars across the capital.
"All the evidence I have suggests that human trafficking is a very complex crime with many hidden and informal cases taking place in everyday environments such as domestic trafficking of Nigerian children under the guise of informal fostering, the exploitation of Latin Americans in the au pair industry and the sex grooming of British boys on the internet.
"An overstretched anti-trafficking unit and figure-driven culture means police are focusing on large-scale organised cases and neglecting the informal trafficking cases that take longer to find, but are sometimes more serious."
The report also said a fifth of trafficked victims identified in London so far this year were men, and Mr Boff has called for more rape support services for them.
'Complex operations'
His recommendations include the Met's Human Trafficking Unit (HTU) being protected from further integration into other units after being merged with vice, fraud, and extradition.
He also wants additional human trafficking units to be established in other police forces the so Met's HTU is not overstretched by assisting investigations outside the capital.
A Met Police spokesman said it welcomed the report but it was "disappointed" by the conclusions.
"Since the launch of the HTU in April 2010, it has carried out 146 complex and lengthy operations and charged 282 people," he said.
"The HTU and local policing teams do - and will continue to - investigate those who traffic or coerce men and women into and within London for sexual exploitation."