Stuart Lawrence race complaint against Met upheld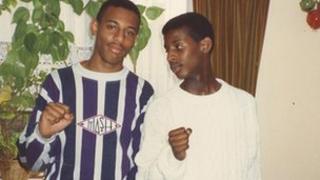 A Metropolitan Police officer accused of racial discrimination against the brother of Stephen Lawrence has a "case to answer for misconduct", the police watchdog has said.
Stuart Lawrence complained after he was stopped by police last November.
A Met investigation cleared the officer of any wrongdoing, but Mr Lawrence appealed to the Independent Police Complaints Commission (IPCC).
The force said it was considering the IPCC's recommendations.
Earlier this year, Mr Lawrence, 35, a teacher, said he had been stopped by police up to 25 times over several years.
'Harassment and discrimination'
His solicitor Imran Khan said the formal complaint related to him being stopped by police on 16 November but was "the culmination of a course of conduct over many years which amounted to harassment and discrimination based upon his skin colour".
An IPCC spokesman said: "We can confirm the IPCC has notified solicitors acting on behalf of Stuart Lawrence the outcome of his appeal which was made in May.
"We confirm it was upheld in part and one Metropolitan Police Service officer has a case to answer for misconduct in relation to racial discrimination."
A Metropolitan Police spokesman said: "The Metropolitan Police Service has received the outcome of the appeal relating to Mr Lawrence's complaint, and is considering the IPCC findings and recommendations."
In 1993, Stephen Lawrence was stabbed to death in a racist attack in Eltham, south-east London.
Last year Gary Dobson and David Norris were convicted of the murder of 18-year-old student.
The Met faced criticism over the original investigation into the death and a public inquiry branded the force institutionally racist.