Ealing Council's bid to save A&E rejected by High Court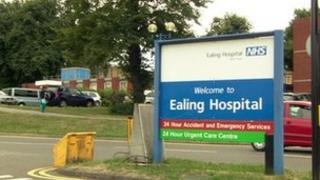 A High Court judge has thrown out a local authority's bid to challenge plans to close an A&E department in west London.
Ealing Council asked for permission to seek a judicial review, claiming proposals for ending A&E services at Ealing Hospital were legally flawed.
Refusing permission, Mr Justice Mitting ruled all grounds of challenge were "unarguable".
Ealing Council said campaigners were "devastated by the decision".
'Monstrous plans'
The changes, which are part of a reorganisation of healthcare services, were approved in February by a Joint Committee of the PCTs (JCPCT).
Under the Shaping a Healthier Future programme, A&E units are under threat at Charing Cross, Central Middlesex, Hammersmith and Ealing hospitals.
Councillor Julian Bell, leader of the council, said: "The future of these vital health services now rests with Jeremy Hunt who can still reject these monstrous plans.
"I would urge him to scrap these plans now in response to our very real concerns about the safety of these plans and the ability of remaining services to cope."
The council's legal team said the JCPCT had failed properly to take into account the health needs of residents and accused the committee of not complying with the statutory duty to ensure service users are involved in the proposals for change.
The judge rejected all the challenges, ruling the needs of local people had been "specifically considered and addressed".
Dr Mark Spencer, medical director of the Shaping a Healthier Future programme, said: "I have no doubt that our plans will save lives, so this is a very good result for patients, for north-west London and for the NHS."
The Independent Reconfiguration Panel, which advises ministers on proposals for changes to the health service in England, has submitted a review of the plans to the Health Secretary Jeremy Hunt.
He will respond to the findings and recommendations at a later date.