Hackney 'fashion hub' approved by council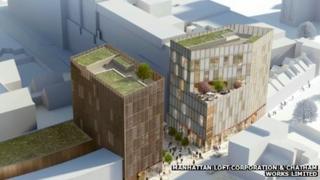 Plans to build a multi-million pound "fashion hub" in east London have been approved by Hackney Council.
It is hoped the Hackney Fashion Hub will bring in thousands more shoppers and help boost the local economy.
The plans are a joint venture between Chatham Works Limited and the Manhattan Loft Corporation, which restored the St Pancras Renaissance Hotel.
Two seven storey buildings will replace temporary structures currently housing a number of fashion brands.
'Aspiring designers'
Work to build the hub, which will include a "stitching academy" offering apprenticeships and training opportunities, will begin next year.
London Mayor Boris Johnson said: "It is great news for Hackney that a major new fashion hub has got the green light, helping to put this vibrant area on the map as a retail destination and providing support for aspiring young designers to boot.
"This is part of an exciting wider economic regeneration of Hackney, including a £2m investment from my regeneration fund, which will completely revamp the high street, and create hundreds of jobs and training opportunities for local people."
Councillor Guy Nicholson, Hackney Council's cabinet member for regeneration, said: "We are working with a range of partners who share our vision of bringing this world-class development to Hackney Central for local people.
"One of the key goals for us is that the fashion hub creates local jobs and opportunities for residents to create new business.
"It's crucial that new developments like this benefit the whole community, including existing businesses and town centres."