Paralympian David Weir 'confident' of finding suitable home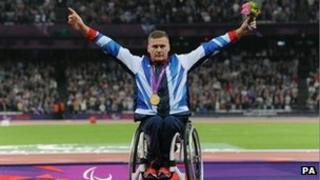 Six-time Paralympic champion David Weir said he is "confident" a London council will be able to find him a home with a downstairs toilet.
Mr Weir, who became a household name at the London 2012 games, has to pull himself up the stairs several times a day at his current house in Wallington.
Speaking to The Sun newspaper, Weir's fiancée Emily Thorne said she fears he was risking a shoulder injury.
Sutton Council said it has been "working to meet David's needs".
Weir, who won four gold medals at the London games, has been unable to use his legs after difficulties at birth because a spine injury.
'Specific needs'
He said his family has been working with Roundshaw Homes, which handles social accommodation on the estate where he lives, and Sutton Council to find a suitable property.
"The correct protocol is being followed and we have full backing from the housing association and council, who have confirmed that we will be fully considered the next time a suitable property becomes available," he said.
"I feel confident that everything possible is being done to resolve the situation."
A statement from Sutton Council said: "We have been working to meet David's needs for some time and are close to resolving his housing requirements.
"The supply of social housing is very limited, especially larger homes suitable for families.
"The need to find accommodation suitable for adaptation to meet specific need adds to the difficulty.
"We are hopeful that a suitable property has been identified that could meet the needs of David and his family."