Shofique Uddin jailed over Sultan Ahmed garden drainage row murder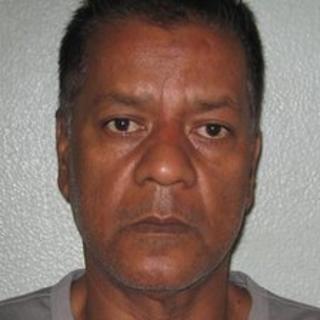 A man has been jailed for life for killing a neighbour in a dispute over garden drainage in east London.
Shofique Uddin, 51, of the Isle of Dogs, was found guilty of murdering Sultan Ahmed, 20, in a row over washing carpets in May last year.
Uddin's son had a row with a woman over dirty water draining into their garden. Mr Ahmed was stabbed when a group of people went to confront Uddin's son.
The grandfather has been jailed for a minimum of 14 years at the Old Bailey.
Judge Christopher Moss QC said Uddin, a father-of-eight, had "completely overreacted" instead of diffusing the situation.
Attack filmed
The female neighbour was washing carpets with a hose in her garden in the housing estate when Uddin's son confronted her saying the dirty water was seeping into their garden, the jury heard.
Later that evening a group of people, including the victim, went over to Uddin's house to confront the man over his behaviour, leading to a heated row.
Uddin, who had armed himself with a large kitchen knife, stabbed Mr Ahmed in the back fatally injuring him. The whole incident was filmed on a mobile phone, the court heard.
The judge told Uddin: "Your son took issue over water seeping into your garden.
"Their children were angry at the way their mother had been treated. They came to your front door and demanded to speak to your son.
"Instead of doing your best to defuse the situation, you simply made it worse by your aggression."
'Out of control'
Judge Moss added he could not be sure whether Uddin, who denied murder, had intended to kill the 20-year-old, but said Mr Ahmed had been murdered.
"You stabbed him once and tried to stab him again as he fell to the ground mortally wounded."
Uddin's wife Gulbahar Begum, 51, was cleared of two charges of causing grievous bodily harm with intent while their daughter Rahela Begum, 27, was acquitted of causing actual bodily harm.
Det Insp Andy Jones said: "This was a neighbourly dispute that spiralled way out of control with tragic consequences.
"Although there were two sides to this dispute, only one side chose to arm themselves with weapons."