Battersea Power Station on world threatened heritage list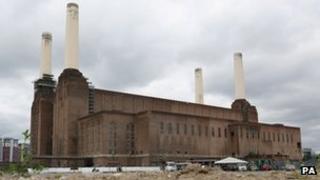 Three sites in London, including landmark building Battersea Power Station, have been placed on a global list of threatened "heritage".
World Monuments Fund (WMF) watch list said Deptford Dockyard and Sayes Court Garden in London are also at risk.
The Grimsby Ice Factory and Sulgrave Manor in Northamptonshire are the two other place under threat in the UK.
WMF said the sites were in need of preservation but could be "magnets for cultural and community development".
The WMF lists 67 sites in 41 countries, which varies from derelict industrial sites like the power station in south-east London to the Italian city of Venice, the village of Pokfulam in Hong Kong and the Gran Pajaten archaeological site in Peru.
Bonnie Burnham, the president of WMF, said: "These sites - and countless others like them - recount our human history and highlight our achievements.
"It takes vigilance to keep them active in the world, yet it is often the case that the very places that provide rich character and texture to our lives need more assistance and attention than they are given."
The Grade II*-listed Battersea Power Station has been vacant since being decommissioned in 1983 but work is under way to redevelop the area, including the 1933 structure.
Deptford Dockyard dates back to 1513 when Henry VIII ordered it to be built. It served as the administrative headquarters of the Navy from the Tudor era.
Sayes Court Garden, also in south-east London, was established by writer John Evelyn in 1653.
Built in 1900, the Grimsby Ice Factory provided crushed ice for trawlers to keep fish fresh. It also features on the UK's most endangered buildings list.
Sulgrave Manor, another Tudor-era building, was the home of George Washington's English ancestors.