Rapist Marvin Samuels guilty of girlfriend's murder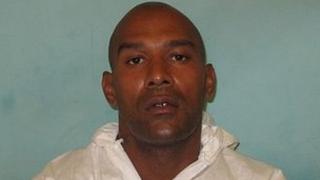 A rapist who attacked a stranger before killing his former girlfriend has been found guilty of her murder.
Marvin Samuels, of Stonebridge, stabbed Sharlana Diedrick, 32, in September 2012 after raping a woman at Welsh Harp Reservoir in Neasden, London.
Samuels, 31, who previously admitted rape, was cleared of a charge of the attempted murder of the 42-year-old.
He also denied murdering Ms Diedrick; the mother of his son. Samuels will be sentenced at the Old Bailey on Monday.
The killer had also admitted causing grievous bodily harm with intent to the rape victim, whom he attacked with a bottle and piece of wood.
In impact statements from Ms Diedrick's sisters Karlana and Marlana they said they had feared for their sister's safety and the family, including the victim's four children, are still traumatised.
Marlana Diedrick said: "To think that four children whose lives were ruined forever the night you [Samuels] took their mother away are still grieving one year on and are not living a normal childhood and then, on the other hand, to see you sitting uninterested in the dock making paper airplanes out of CPS evidence is an absolute mockery and casts a big doubt in my mind as to whether indeed you are remorseful at all."
'Covered in blood'
The jury heard the woman Samuels raped was "in the wrong place at the wrong time" and resembled his on-off girlfriend, who was stabbed to death later that night in a car parked outside his home.
Denying murder, Samuels claimed he was not "mentally responsible" at the time of the attack and also told police that he "was not in his right mind that day".
Prosecutor Duncan Atkinson said Samuels had a "volatile" relationship with Ms Diedrick. They had an argument about child care and he "lost it completely".
Mr Atkinson said: "She was covered in blood and a blood-stained knife was found near her.
"She had suffered 16 stab wounds to the chest and abdomen."
The barrister also suggested that Samuels attacked the stranger earlier that evening because he was stressed about his problems with Ms Diedrick, adding the attack was brought on by "anger, frustration and stress rather than mental illness".
Following the verdict Det Insp Simon Pickford said: "This has been a shocking case. Samuels has proven himself a violent predatory rapist and a murderer.
"He deserves to be behind bars for many years to come and I'm pleased his claim of mental health issues was rejected by the jury."