London cabbies' poster anger over licence delays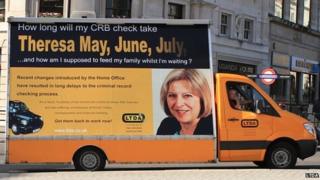 Posters of the home secretary are being used by taxi drivers campaigning against delays in background checks.
The Licensed Taxi Drivers Association said certificates proving safeguarding checks take up to 10 weeks to arrive.
It wants the Home Office to send certificates directly to Transport for London (TfL) so drivers can be licensed quicker.
A Home Office spokesman said the procedure was a matter for the body which performs the safeguarding checks.
Protest posters featuring Theresa May will appear on black cabs in London as well as on advertising vans and in newspapers.
'Angry and frustrated'
Steve McNamara, general secretary of the Licensed Taxi Drivers Association, said he had written to the home secretary and other civil servants to ask to remove the "red tape", but to no avail.
He said: "There are currently upwards of 200 drivers out of work, unable to pay their mortgages, rent and feed their families.
"Our members are angry and frustrated at the intransigence of the Home Office and this campaign is aimed at venting that anger towards the one person who could solve the problem quickly and easily but refuses to do so."
But the Home Office spokesman said: "The decision to not renew taxi licences pending the result of checks has been made by taxi licensing authorities - not the Home Office."
'Quicker and easier'
The Disclosure and Barring Service (DBS) replaced the Criminal Records Bureau and Independent Safeguarding Authority in December 2012, and it sends a certificate listing the results to the applicant instead of the employer once the safeguarding checks are done.
If asked, the cab driver then has to provide the certificate to the employer before getting a licence.
Mr McNamara said adding an option on the application form of sending the criminal record check certificate straight to the licensing authority would mean a licence to operate could be issued while the actual certificate arrives.
Helen Chapman, TfL's manager in charge of taxis and private hire, said: "This new system is causing delays for drivers, and we share their frustrations."
She said the Mayor of London had raised the issue with the Home Office, and transport commissioner Sir Peter Hendy would be meeting with the government shortly to try to resolve it.
The Home Office said: "Three quarters of Disclosure and Barring Service certificates are issued within 14 days and the changes we introduced in June have made the system quicker and easier to use.
"Certificates can now be reused for the first time - eliminating unnecessary repeated checks - and they remain vital in helping employers make informed safeguarding decisions."