Mark Duggan inquest: Kevin Hutchinson-Foster blames police for riots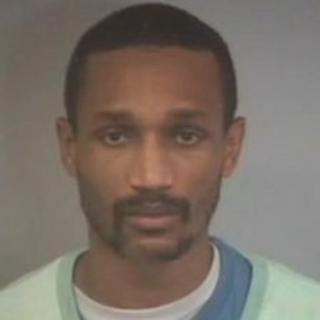 The man who stood trial charged with supplying Mark Duggan with a gun has blamed the police for the 2011 riots.
Kevin Hutchinson-Foster gave evidence via video from Maidstone Prison. He was jailed for supplying a gun to Mr Duggan in February. He had denied the charge.
He told the jury at Mr Duggan's inquest he will appeal against his conviction once the hearing has concluded.
Mr Duggan, 29, was shot dead by police in Tottenham, north London, after intelligence said he might have guns.
His death sparked riots in London, which spread across England in 2011.
Hugo Keith QC, representing the Metropolitan Police, told Hutchinson-Foster: "Your actions led to unparalleled disorder and remarkable, extraordinary events in London."
Hutchinson-Foster replied: "That was down to the negligence of the police, not down to me," as members of Mr Duggan's family cheered.
Ian Stern QC, representing the firearms officers, asked Hutchinson-Foster: "Why did Mark Duggan want a gun?"
Hutchinson-Foster replied: "Is that a trick question? How would I know?"
Shoebox found
He said he did not know how the gun he used to pistol-whip a man ended up at the scene of the shooting, but added it was "likely" to be the same gun.
He said he returned the gun to a supplier on 29 July and did not give it to Mr Duggan on 4 August.
"After July 29, the gun was not of concern to me," he said.
When repeatedly asked who gave him the gun, Hutchinson-Foster continued to refuse to identify the person.
Mr Duggan called Hutchinson-Foster at 17:56 BST for 10 seconds, just before the alleged gun pick-up, the inquest heard.
"Just long enough to say: 'I'm here'," Mr Stern said.
Hutchinson-Foster said while he did not hand over a box with a gun in it to Mr Duggan, he had previously handed over other boxes.
He said he gave a shoebox to a mutual friend to give to Mark Duggan weeks before the shooting. The shoebox was found in a minicab at the scene of killing.
Tissue paper
"I feel like I'm being attacked and being put on trial again. I'm trying to be helpful," Hutchinson-Foster said.
He said he carried his football kit around in a woman's shoebox.
Mr Stern responded: "You put your kit in a box do you... with tissue paper... and heel tips?"
Hutchinson-Foster said Mr Duggan wanted him to meet a friend in Tottenham who "had some weed" on the day of shooting.
He said Mr Duggan "wanted me to follow him to Tottenham" but he was too busy.
The inquest is being held at the Royal Courts of Justice to ascertain whether Mr Duggan was lawfully or unlawfully killed.