Doctor 'negligent' over DVT death of Jacqueline Allwood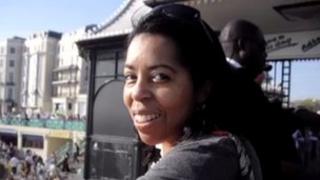 A doctor who prescribed rest, ice, and comfortable shoes for a woman who later died of a blood clot, was medically negligent, a coroner has ruled.
Jacqueline Allwood, 47, died 10 days later after a blood clot travelled from her leg to her lung.
Dr Saurabh Adlakha knew of the family history of deep vein thrombosis, Southwark Coroner's Court heard.
Recording a narrative verdict, medical negligence by Dr Adlakha contributed to her death, said coroner Andrew Harris.
The inquest was told Dr Adlakha suggested Ms Allwood had probably suffered a sprained calf picking up Christmas decorations in December of 2012.
After limping into the Beckenham Beacon Urgent Care Centre she was told to take some ibuprofen, rest, use ice and stretch the muscle and to wear more comfortable shoes.
'Catastrophic' consequences
But ten days later Ms Allwood died when a blood clot travelled to her lung.
"The consequences of missing a DVT are, as in this case, catastrophic," said Mr Harris.
He referred Dr Adlakha to the General Medical Council for review.
Outside court, Ms Allwood's daughters Tanya and Leanne Allwood said they were content with the outcome and although they did not want Dr Adlakha to be punished, they did want to believe he would learn from his mistake.
"We would never, never want to see another family go through what we have," Tanya Allwood said.
Her mother had been "one of the most sincere, nicest people you could meet", she added.
Dr Adlakha earlier told the hearing he would conduct more thorough tests in the future because "I don't want to be here again".