London councils 'wasted £20m' on rubbish disposal plan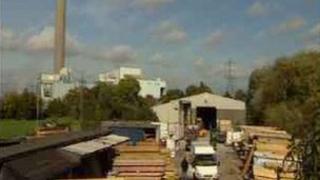 More than £20m was spent by seven councils in preparation for a contract for a waste disposal service which has now been scrapped.
The North London Waste Authority (NLWA) was working for five years on a £3.5bn plan for two privately-run centres.
The scheme was dropped after planning policy changes and NWLA says it can now save £900m using existing facilities.
London Assembly Green Party member Baroness Jenny Jones and campaigners dubbed the exercise a "terrible waste".
The NLWA, which handles waste disposal for Waltham Forest, Camden, Enfield, Barnet, Haringey, Hackney and Islington, claims it will save the £900m over three decades using its current facilities and keeping the service in-house.
The authority also spent £12m to buy a site in Pinkham Way for one of the projects, which will now lie vacant.
Campaigners from The Pinkham Way Alliance have opposed plans for a waste processing unit at the site.
'No U-turn'
The NLWA said it ended the procurement process after planning policy changes introduced last month by Mayor Boris Johnson and Enfield Council, which meant such large proposals would not have got the go-ahead.
It also found treating waste in-house would save money.
Councillor Clyde Loakes from Waltham Forest Council, who is the chair of the NLWA, said: "This was a £3.5bn procurement contract dealing with 3% of the country's waste.
"This is a massive massive project in logistics, in financing, and in technology. This is not something that could be done with a couple of pounds spent here and there."
Operations would remain at the current site in Edmonton, but with a new incinerator phasing out the one in use, and with plans for Pinkham Way being scrapped the site will be undeveloped for now.
Mr Loakes said: "This decision will save north London money in the short to medium term, and could save us a total of up to £900m over almost 30 years."
He added the authority has "not made a U-turn" after FCC Skanska, one of the bidders for the project, said "the NLWA had consistently led us to believe that this was an affordable and deliverable project".
Baroness Jones said she was "very glad that it's been stopped because it was a bad idea from the very beginning" and would have led to increased pollution.
"I think so far it's been a terrible waste of taxpayers' money," she said.
"It would be much better spent if they had thought more about some futuristic technology and less about old technology."
Stephen Brice from the Pinkham Way Alliance said: "They spent the last five years on this colossal procurement, which they have repeated again and again and again, in every statement, that it's value for money.
"There's no logic in the fact that something can be value for money and then all of a sudden you find a saving of almost a billion pounds."
Mr Loakes said the money spent, including on consultant fees, was "not wasted" and the information gathered will be used in future.