Leyton blaze destroys double-decker bus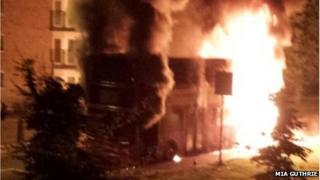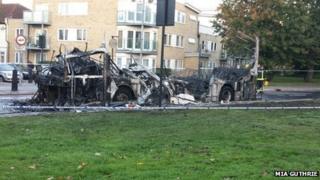 A double-decker bus has been destroyed by a fire in east London.
The driver managed to escape from the burning vehicle after it caught fire on Leyton Green Road, in Leyton, at about 05:50 BST.
Police said there were no reports of any other injuries and the fire was put out by 06:30.
Mia Guthrie, who lives on the road, said the vehicle was "completely wrecked".
"The fire looked like it started from the back of the bus," she said.
"The driver managed to get out, but by the time the fire crews got here the bus was in pieces. The tyres were popping... it was quite scary."
London Brigade is investigating the cause of the fire.