Older residents celebrate 'Silver Sunday'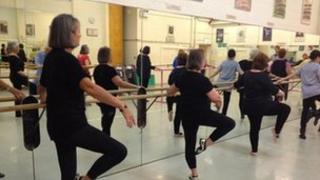 Thousands of people aged over 65 are taking part in events across London to celebrate older residents.
Silver Sunday, which is organised by Westminster City Council, is holding classes ranging from ballroom dancing to computer training.
Councillor Christabel Flight created the day after going to a conference on loneliness.
She said: "We have Mother's day, Father's day, so why not Silver Sunday celebrating older people."
The day, which was launched in Westminster last year, has spread to other London boroughs, including Brent and Croydon.
'Live longer'
"I went to a conference on loneliness and what came out was how difficult it was to put over to the public how lonely people were," said Ms Flight.
"We know a third of older people are extremely lonely and never go out. It's a terrible problem."
Similar workshops are taking place in Manchester and Devon after other local authorities took up the idea.
Edwina Brocklesby, 70, took part in a timed mile at Paddington Recreation Ground, in Westminster, and also organises fitness events for older people.
"It's never too late to start," she said.
"If people can get walking... they are going to be healthier for the rest of their lives and will live a bit longer too."