Swapping the streets for the kitchen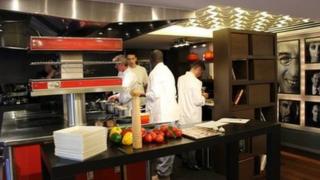 Two years ago Joseph Doyle was sleeping rough on the streets of London after he left his native Ireland in a bid to escape slipping into a life of crime and substance abuse.
"I was doing drugs and I didn't want to be involved with that anymore," he said.
"I wanted to get out so I came to London. I just wanted to become a better person."
A chance meeting with an outreach team from an east London charity led to him taking a different path - into the kitchen of a five-star hotel.
The 25-year-old started volunteering in the kitchen of the charity Providence Row and has now progressed to honing his skills with chefs at the Andaz Liverpool Street hotel as part of a trainee scheme.
"I was very nervous and it was overwhelming being in a kitchen for the first time," Mr Doyle said.
"Seeing how it was run I was worried about getting things wrong, but once we got going it felt really natural."
Social inclusion
Trainee Madzoub Siddeeq also used to sleep rough and his pitch was yards away from the hotel.
"When I came I had nothing, I fled my country Sudan because of the war," the 47 year old said.
"I used to have problems communicating and I found it really hard, but I enjoyed the work in the kitchens and it's given me experience."
The catering scheme, which started two years ago, has seen 24 trainees take part in a bid to try and help them get off the streets and improve their prospects of employment.
Five have managed to get full-time employment - one of whom is working in the hotel's kitchen.
On Wednesday the project won an award for social inclusion at the Lord Mayor's Dragon Awards, which recognises corporate engagement projects in local communities.
Trainee scheme manager Dominic Gates says the project helps clients become more independent and has given many the hope that their lives can change.
"I think whereas things used to be about soup kitchens and providing people with food... it's now more about getting people into employment and engagement," Mr Gates said.
However, he admitted the transition from sleeping on the streets to working had been tough for some.
"A lot of them felt like they weren't a part of the environment, but if you get people in a room talking about food, it brings them together," he said.
"They're not talking about drugs or being homeless, it's about something positive and it's bringing different social circles together."
For Mr Doyle, who is now living in a hostel, the scheme has uncovered a hidden passion and he now hopes to become a chef.
"I always loved cooking and I do not like to think about what would have happened if I hadn't done this," he said.
"My life would be worse off. I think I would still be living on the streets and hanging around with bad people."