Tottenham and West Ham fans warned about 'yid' chants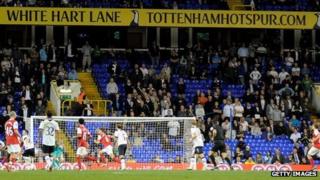 Tottenham Hotspur and West Ham United fans have been warned against chanting the word "yid" ahead of their derby clash on Sunday.
The Metropolitan Police said fans using the term could be arrested.
The warning comes as the north London club has sent a questionnaire asking if the word should be banned from chants.
Spurs have a strong Jewish following and have been the target of abuse from opposition fans, although some Spurs supporters use the term themselves.
The chairman of the footballers' union, Clarke Carlisle, said fans should be banned for using the word, but Prime Minister David Cameron has said people should not be prosecuted unless it is used as an insult.
'Debated at length'
The Football Association has warned supporters that the use of such words could result in a banning order or criminal charges.
The Met said the term caused harassment, alarm or distress to others, and officers would be taking action to stamp it out.
Ch Supt Mick Johnson, the match commander on Sunday, said: "This topic has been debated at length but our position is clear, racism and offensive language have no place in football or indeed in society.
"Those supporters who engage in such behaviour should be under no illusion that they may be committing an offence and may be liable to a warning or be arrested."
West Ham United also warned supporters that "unacceptable conduct" at Sunday's match could lead to fans being banned from attending games.
In a statement on its website the football club said: "The club, along with the Metropolitan Police, will continue to adopt a zero tolerance policy towards any form of discriminatory behaviour this year.
"Any fan found to be acting inappropriately - including racist, anti-Semitic and homophobic behaviour - will be punished to the full extent of the law and banned from attending matches."
In a statement issued late on Friday the Tottenham Hotspur Supporters Trust (THST) said they believed no Spurs fan "uses the term 'yid' in an offensive or insulting way".
But it said the distinction between the use of the term as a "badge of honour and a call to arms" and the "anti-Semitic abuse levelled at our fans by supporters of opposing teams appears to have been dismissed by the FA and the Metropolitan Police".
The decision to "label the songs our fans have been singing and the chants our fans have been chanting for decades as racist overnight" was, it said, incomprehensible and could be in breach of freedom of expression legislation.
The statement ended not by warning fans not to use the term, but urged those at the game "to make their decision as to whether or not to use the term on Sunday equipped with all the information available".