Met reaches agreement with Ali Dizaei to avoid tribunal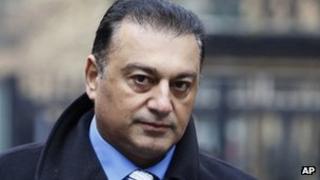 The Met Police has reached an agreement with disgraced former Cdr Ali Dizaei over his discrimination and employment tribunal claim.
No compensation has been paid but the force will pay part of his legal costs. It will not release the amount paid.
Earlier this year, Dizaei, 50, from Acton, lost an appeal against convictions for misconduct and perverting the course of justice.
He was jailed in 2010 for framing a businessman after a row.
Dizaei was found guilty for a second time at a retrial last year after his first conviction was quashed and he was sacked in May 2012 following internal disciplinary proceedings.
BBC Home Affairs correspondent Danny Shaw said the force had avoided an "embarrassing hearing" which was due to take place early next year.
In a statement, the force said: "The MPS [Metropolitan Police Service] and Mopac [Mayor's Office for Policing and Crime] have a responsibility for public funds and for this reason out-of-court negotiations formed part of the consideration in order to avoid costly litigation."